Skip to Content
Asheville, NC's Pros at Lot & Land Clearing
It's your property, so you should use it anyway you want. When you purchase or own a large area of land that's covered with trees, contact Newcomb Tree Service in Asheville, NC for lot and land clearing. We can quickly remove the trees and brush, so you can use the land for something more productive. We've been helping homeowners and businesses throughout Buncombe County, NC with our tree services since 2006, and we have the experience you need to clear your land the right way. Our team devotes their personal attention to your exact specifications. If you want an area untouched, we'll make sure to preserve that spot.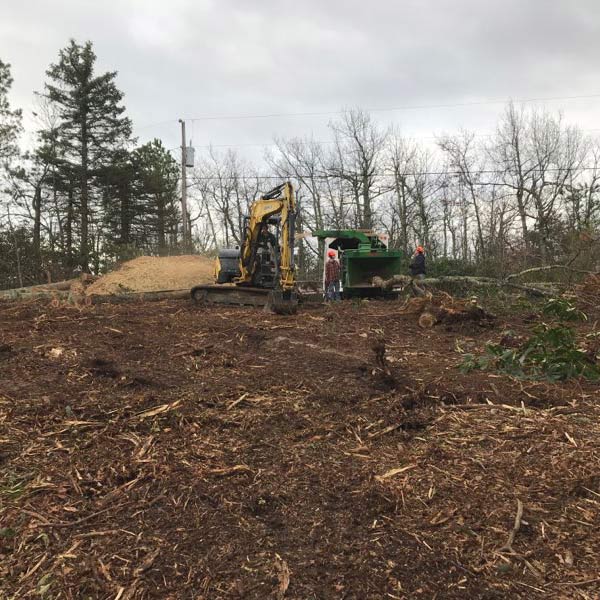 Professional Skills & Equipment
To successfully clear a lot, you need a team with the right skillset and equipment. Instead of taking on the project yourself and risking injury and an overwhelming amount of time and frustration, let the professionals at Newcomb Tree Service handle it. You can count on our reliable crew to finish the job quickly, using specialized equipment to take care of it.
Specialized equipment includes the following:
Trackhoe services make clearing the land of trees and brush short work by using the machine's brute strength and precise operation to excavate the area.
Crane removal allows us to carry out large and heavy trunks, branches, and stumps that would otherwise be a time-consuming burden to get out.
A bucket truck gets us into the trees to better survey the work needed and access the high branches and upper trunk for cutting and removal.
A chipper helps us quickly process branches into chips that can be moved easily or utilized in landscaping for the cleared land. Either way, you can benefit from quicker clearing or fresh mulch.
For Emergencies, Call Us for a Prompt Response, 24/7